neu bei
eine Produktion der   ZIMMERBÜHNE IN DER NIEDERBURG Konstanz
NEU * NEU * NEU * NEU
von Robert Crumb gestaltete Postkarten
1.   Notker Homburger: Stubete - 2014
2.   Notty's Jug Serenaders: Banholzer, Homburger, Dannenmayer - Jug Band Blues - 2018
3.   Banholzer, Heizmann, Homburger: Eingeborenenmusik vom Westlichen Bodensee - 2020
4.   Norbert Heizmann und Notker Homburger: Eingeborenenmusik vom Westlichen Bodensee - 2020
Set mit 4 Karten / 4-card-set:   € 10,-- oder/or  $ 10.-- oder/or  £ 10.-- (inkl. Porto/incl. postage)
Geld bitte im Briefumschlag an / Please, send money in an envelope to
Notker Homburger, Gartenstr. 38, D-78462 Konstanz
Versand nach Zahlungseingang
BLUES & RHYTHM MAGAZINE #355 (Christmas 2020)
Robert Crumb: Postcards of Notker Homburger
Notker has had some good press over the years, both in his own right and as leader of the consistently unpredictable Notty's Jug Serenaders he formed in 1984, down on the border between Germany and Switzerland. So, it was rather nice, if unexpected, to receive these four postcards, which are available via the band's website. Cartoonist/illustrator Robert Crumb should be well-known to many readers, at least from his work for the Yazoo label and others over the years – did anyone ever actually trade his rather handsome trading carts? - or maybe from his book, 'Heroes Of Blues, Jazz And Country'. These four postcards are very much in that vein, from work Robert has done for the band, including the sleeve for Notker's 2014 album, 'Stubete', though my favourite is 'Eingeborenenmusik Vom Westlichen Bodensee' which translates as 'Native (or 'Indigenous', if you prefer) music from western Lake Constance' – did you actually pose for this, guys? If you appreciate Robert Crumb, want something a little different, or just want to support musicians who have been bereft of gigs in 2020, these do the job.  Available from https://notkerhomburger.de/discographie/
 (Norman Darwen)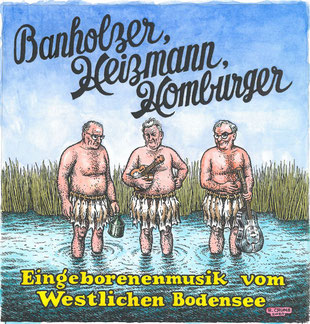 Bitte bestellen Sie bei / Please, order from
Jump Up Mailorder
Matthias Henk
Alexanderstr. 32
28203 Bremen
Telefon: +49 421 4988535
E-mail: info@jumpup.de
"STREUNEN OHNE SCHNUR"
 als CD oder 180gr. - Vinyl LP
(D.2020)
Homburger gibt ein (sehr kurzes!) Gastspiel bei Alex Behnings neuer Produktion.
Behning und Homburger spielen ein instrumentales Stück namens  "Ginster".
Deutschlandradio Kultur, Tonart vom 17. Juni 2020:
 https://alexbehning.de/Sendung_DLF_Tonart_17_Juni_2020.mp3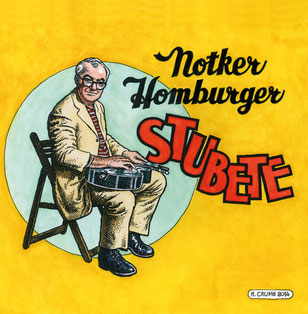 Bitte bestellen Sie bei / Please, order from
Jump Up Mailorder
Matthias Henk
Alexanderstr. 32
28203 Bremen
Telefon: +49 421 4988535
E-mail: info@jumpup.de
"STUBETE"
UFR30102015-1 (limited 2-LP-Set, 180gr Vinyl, nur 222 Exemplare! / 222 copies only!)
UFR30102015-2 (CD)
(D.2015)
Die Musik im Blut und Konstanz im Herzen
"Es war einfach mal wieder an der Zeit: Sechs Jahre nach dem letzten Album des Konstanzer Musikers Notker Homburger. 'Schon seit Jahren trage ich mich mit der Idee. Jetzt ist es endlich so weit', sagt Homburger. Die Scheibe trägt den Titel 'Stubete' und soll ein musikalisches Zusammentreffen von Freunden darstellen. 'Bei einer Stubete wird gespielt was gefällt – ohne Scheuklappen und Schubladen', erläutert der Musiker. Herausgekommen ist dabei ein üppiges Album: 18 Lieder auf einer CD, für Vinylfreunde gibt es das Ganze auch auf Langspielplatte.
Darauf sind einige Klassiker von Homburgers Band, den Notty's Jug Serenaders, ebenso wie Vertonungen alter Tänze aus dem Thurgau, der Jimmy Rogers Überhit 'That's All Right' und einige Stücke zum Konstanzer Lebensgefühl. Die meisten davon entstanden bei den Theaterproduktionen 'Der Geruch vom Bodensee' (2013) und 'BodenFee und WellenZwerg' (2014). Zum Beispiel 'Konstanz wär so schön und nett', eine wunderbare lokale Verarbeitung eines globalen Themas. Gentrifizierung lautet das Stichwort. Grundsätzlich beschreibt dieser Begriff einen Wandel in der Struktur einer Stadt oder von einzelnen Stadtteilen – Bewohner mit niedrigem Einkommen werden von Bewohnern mit höherem Einkommen verdrängt. Auch in den Konstanzer Stadtteilen Allmannsdorf, Niederburg und Petershausen gibt es solche Entwicklungen. Der Song greift das Thema auf: 'Konstanz wär so schön und nett, wenn's keine Konstanzer hätt. Die schimpfen nur, denen ist nichts recht und außerdem versteht man sie schlecht', heißt es im Refrain. In den Strophen spricht ein Zugereister aus Braunschweig über die Niederburg und den ach so schlimmen Lärm in der Stadt: 'Ich habe ein Recht auf meine Ruhe hier und das klage ich auch ein'.
Es sind solche lokalen Spitzen, die den besonderen Reiz des Albums ausmachen. Dazu zählt auch das frivol-laszive Imperia-Singspiel, das Norbert Heizmann getextet hat. Darin wird die Geschichte der Edelhure Imperia nach der Geschichte von Balzac erzählt. Sehr hübsch und extrem unterhaltsam. Aber nicht nur Konstanz-Liebhaber, sondern auch Fans des typischen Notty's-Jug-Serenaders-Sounds kommen bei dem Album auf ihre Kosten. Ganz gleich, ob sie sich Bluesklassiker, traditionelle Tanzmusik aus der Schweiz oder populäre Schlager wie 'Das Mädchen vom Bodensee' vornehmen – alles klingt immer unverwechselbar nach Notker Homburger und Co."
(Michael Lünstroth, Südkurier 28. Oktober 2015)
"Notker 'Notty' Homburger has featured in these pages several times over the last couple of decades, initially due to his leadership of Notty's Jug Serenaders before branching out into other projects. On this set he brings all the disparate elements of his music together, with the German language folksongs (well, kind of German anyway) and folk-dance tunes of the Lake Konstanz area of the German, Austrian and Swiss borders nestling neatly alongside American styled jug band performances like Sylvester Weaver's instrumentals 'I'm Busy And You Can't Come In' and 'Guitar Rag' and, with vocals in English, listenable covers of Jimmy Rogers' 'That's All Right' and 'Got My Mojo Working', plus a couple of others less well-known. Notker has never taken his music over-seriously and this set has, as with his others, a strong sense of good humour. For this set he has enlisted the help of many musicians in different permutations, though the overall effect is that of some informal music making in an intimate setting – fittingly, as this is what 'Stubete' means in the local dialect. The result is an extremely entertaining and, as we have come to expect from Notty, a rather different release.
Nice Robert Crumb sleeve picture too."
(Norman Darwen, Blues & Rhythm Magazine # 305, 12/2015)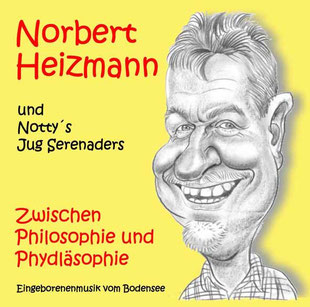 "ZWISCHEN PHILOSOPHIE UND PHYDLÄSOPHIE - Eingeborenenmusik vom Bodensee"
LadwigJazzRecords LJR.201119 (D.2011) CD
Im Zentrum der Betrachtung steht dieses mal die Liederwelt des Herrn Norbert Heizmann.
"Gus Cannon sang 'Going To Germany' way back and, maybe he actually had Lake Constance in mind, as he obviously stayed there for a while with some of his Memphis cohorts, I guess - certainly long enough to show the locals a few techniques and establish a tradition these days continued by Notty's Jug Serenaders, who have featured in these pages before. On this set, band-member Norbert Heizmann takes center stage, though with Notty and crew in support, and it shows them continuing the transition from US-styled sounds to something more indigenous that has been evident over their last few releases.
Norbert tackles the songs mostly in German dialect (I'm really only playing it safe in saying 'mostly', merely because I did find I could understand odd - some very odd - phrases and words) and he also plays ukulele - well, he would, wouldn't he? Backing consists of a mixture of sax, trumpet, guitars, bass, drums, spoons and sundry other instruments, and the tracks include items that could be labelled as near New Orleans jazz, kind of Harry Belafonte flavoured calypso, drunken folk-club singalongs, an illumination of the Celtic twilight, a nod to Eurovision maybe, and even a bit of human beat box propelled, barbershop styled, hip-hop yodeling - honest.
So no, boring and predictable it ain't! If old Gus was still around to see what Notty and company were doing, like most of us he probably wouldn't have a clue what they are going on about - or sometimes what's actually going on - but he would certainly appreciate the musicianship and sense of fun that is palpably present on this set."
(Norman Darwen, Blues & Rhythm Magazine #267, 3/2012)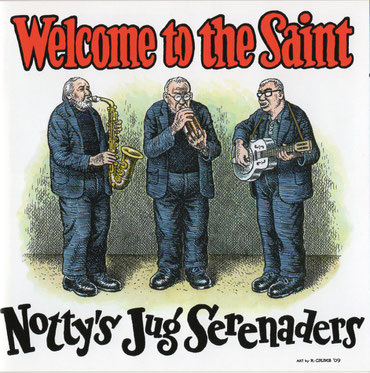 "WELCOME TO THE SAINT"
Blue Monkey Records BMRec 0509 (CH.2009) CD
 Aufgenommen im Herbst 2008 auf einer interessanten Reise in Schottland –
Banholzer/Homburger/Reinhard mit Rolf Stauffacher und schottischen Gästen
"Zu Beginn des letzten Jahrhunderts waren Jug Bands - Vorläufer der späteren Skiffle Bands - sehr populär. Charakteristisch für den Rhythmus ist ein Krug (Jug), mit dem sich durch Anblasen oder Ansingen bassartige Töne erzeugen lassen. Die Notty's Jug Serenaders aus dem Bodenseeraum um Konstanz setzen seit 25 Jahren mit originellem Instrumentarium und ebenso ausgefallenen wie einfallsreichen Stücken die Tradition dieser Bands fort. Für die Aufnahmen zur Jubiläums-CD reiste das Trio mit Notker Homburger, Thomas Banholzer und Andi Reinhard nach Schottland, um bei einigen Titeln mit einheimischen Gastmusikern zu spielen. Herausgekommen ist eine bunte Mischung: Alte, neue und eigene Stücke bieten die Multiinstrumentalisten in einem fröhlichen Stilmix aus Blues, Jazz und Folkmusik. So ist bei 'Trudie's Lament' das Alphorn tonangebendes Instrument, während bei 'Ruggusseli vom Bodensee' das Rollen von 5-Franken-Stücken in aufeinander abgestimmten Schüsseln für ungewohnte Klänge sorgt. Überhaupt ist für Notty's Jug Serenaders der Bodensee, trotz der Aufnahmen in Schottland, ein wichtiger musikalischer Bezugspunkt. In ihrer, wie sie es nennen, 'Eingeborenenmusik' darf auch die 'Fischerin vom Bodensee' von Franz Winkler nicht fehlen. Diese Edelschnulze interpretieren sie in bewährter Jug-Manier mit Krug, Kazoo, Gitarre, Löffel-Percussion und schottischer Dudelsack-Pfeife. Ebenso ein umwerfendes Remake wie der Foxtrott 'Wenn der weiße Flieder wieder blüht' mit Nasenflötensolo von Andi Reinhard. Daneben gibt es auch Bodenständiges beim 'Kansas City Blues' oder Ellingtons 'Don't Get Around Much Anymore'. Die Notty's Jug Serenaders bieten Weltmusik im eigentlichen Sinne und unterhalten als Vollblutmusiker bei diesen 19 Stücken auf ihre typisch humorvolle Weise."
(Andreas Geyer, Jazz Podium 10/2009)
"Prêtez attention à ce disque. Pour la couverture originale de Robert Crumb, la musique
joyeuse, blues pre-war et hokum, avec guitares, jugs, mais aussi saxophone, cornemuse,
percussions et, clou du disque, trompe alpestre. Avec Trudie's lament, les trois compères
n'hésitent pas à remettre en question l'origine du blues et du rock and roll, dans un
humour suisse totalement partial. Ils sont donc drôles mais aussi bons musiciens et
chanteurs, parfois hors sujet, mais méritent le détour."
(Christophe Mourot, Soul Bag #196, 10/2009)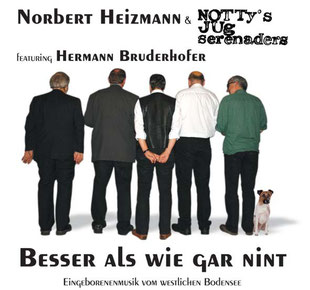 "BESSER ALS WIE GAR NINT - Eingeborenenmusik vom westlichen Bodensee" 
LadwigJazzRecords LJR.20075 (D.2008) CD
Konzertmitschnitt vom September 2007 aus dem Pfohlkeller in Konstanz mit Norbert Heizmann, Hermann Bruderhofer und Notty's Jug Serenaders (Banholzer/Homburger/Reinhard).
Vorwiegend neue Lieder von Banholzer, Heizmann, Homburger und/oder Arrangements von Banholzer/Homburger/Reinhard.
"... I enjoyed (the CD) very much. I liked just about every track but there were two or three - the faster, very rhythmic ones - that I thought were tops - great string band music. A nice synthesis of the local, regional music of where you live with your taste for old-time American music. I think it works very well. I think it's a great thing that you haven't just turned your back on those local traditions. Yet you don't take the academic approach either, trying to reproduce the old music in a strictly scholarly, note-for-note way. All musicians who love the music of our grandparents are caught in this dilemma, keeping the old music alive without being slavishly imitative or academic about it, yet staying true to it, to its mood and feel, even though we live in such a different world, a world of techno-pop and heavy metal, blasting electric noise. Sometimes it feels silly or futile to keep playing the old music, but then it's so enjoyable to play, and if a few other people enjoy listening to it, what the hell -  ..."
(Robert Crumb, Brief an Homburger, 26. Juli 2010) 
"The opening horn riff, followed by the kazoo chorus announces that Notty's crazy gang are back. Every few years they pop up with their indefinable take on jug band music – file under: 'indigenous music from Western Lake Constance'.   All the lyrics on this live recording are in German (kind of…), including the likes of 'Mary's Boy Child' (kind of…), 'As Time Goes By', and the vintage calypso 'Wife And Mother'. They can be serious and make quite beautiful music – try 'Wenn I Nu Könnt' – or be jazzily torchy, and even play the blues (kind of…).   Instrumentation includes guitar – some fine slide playing – banjo, ukulele, jug (of course), trumpet and alto sax, all wonderful played, as ever, but admittedly non-dialect speakers are probably missing a lot. The title translates as 'Better Than Nothing' but this is in fact far better than a lot of stuff nowadays!"
(Norman Darwen, Blues & Rhythm Magazine # 230, 6/2008)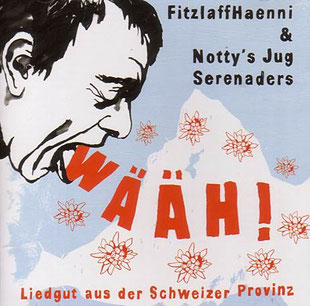 nicht mehr lieferbar / no longer available 
"WÄÄH! Liedgut aus der Schweizer Provinz"
 Elite Special ES73702 (CH.2006) CD
Die CD zum gemeinsamen Bühnenprogramm von Banholzer/Homburger/Reinhard mit
den Schweizer Kabarettisten Roland Fitzlaff und Ueli Haenni.
"Welch famose grenzüberschreitende Zusammenarbeit! An den Schlagbäumen und Zollhäuschen, die Deutschland und die Schweiz trennen, wird noch kontrolliert und inspiziert wie in alter Zeit - inmitten der wachsenden EU sind die Eidgenossen ungebrochen stolz auf ihre Neutralität. Doch die Kunst ist so frei, solche Barrieren zu ignorieren: FitzlaffHaenni & Notty's Jug Serenaders zeigen mit der CD Wääh!, dass die Kehrseite des Schweizer Individualismus eine souveräne Weltoffenheit ist. Die manifestiert sich bei ihnen in einem delikaten Balanceakt zwischen Kabarett und Musik, Show und Ernst, Power und Satire, Provinz und Metropole und und und ...
Die Mischung macht's. Die beiden Nordschweizer Roland Fitzlaff und Ueli Haenni können sich auf ein zwanzig Jahre dickes Erfahrungspolster als Wortjongleure und Bühnenakteure verlassen. Notty's Jug Serenaders wiederum - eine internationale Formation aus Konstanz am Bodensee - haben sich ebenso lange darin geübt, fußend auf der Tradition der amerikanischen Jug Bands spielerisch Klänge aus Blues, Ur-Jazz und alpenländischer Folklore zu verbandeln.
Auf Wääh! ist ihnen das vortrefflich gelungen, und FitzlaffHaenni geben ihren sarkastischen Senf dazu. Die Nummer 'Haiweh', eine bissige Abrechnung mit dem politischen Neokonservatismus in der Schweiz, machte bereits ihren Weg in die Liederbestenliste. Eine starke Empfehlung verdient auch der Titel 'Save My Soul'. Texter Haenni sinniert hier auf höchst vergnügliche Weise über die Abhängigkeit des modernen Menschen vom Computer und seinen vermeintlichen Segnungen wie Informationsflut, bunte (gern auch erotische) Bildchen, Games, Chat-Rooms. Der PC streikt, gibt den Geist auf, und das macht dem Mann an den Tasten erst so richtig bewusst, wie sein Leben am Bildschirm hängt. Sein Fazit, frei übersetzt: Ist mal dein Compi fort, stirbst du am besten gerade mit. Dazu zeigen sich Sänger und Instrumentalisten von ihrer Schokoladenseite: mit fast opernhafter Stimmartikulation zu unkonventionellem Libretto ('Oh, www und http') und lupenreiner Jazztrompete (Thomas Banholzer).
Auf dem Albumcover warnt die Truppe: 'CD nicht geeignet für Humormüffler, Heimatturbos, Machos, Mediomanen, Fastfooder und Slowthinker u.ä.' Das macht doch gerade den Mund wässrig nach dieser schönen neuen Weltmusik aus dem Voralpenland."
(Matthias Inhoffen, Liederbestenliste/Persönliche Empfehlung, 11/2006)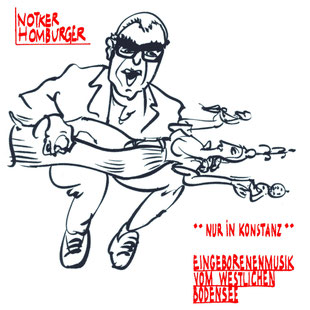 "NUR IN KONSTANZ – Eingeborenenmusik vom westlichen Bodensee"
Chaos CACD8222 (D.2004) CD (limited edition: 1000 copies)
Homburgers Auseinandersetzung mit der traditionellen Musik vom Bodensee
"Von Willy DeVille als 'fucking great' gelobt, fühlen sich Notty's Jug Serenaders und Notker Homburger NUR IN KONSTANZ richtig wohl, wo 'jedes Fürzle zum Event wird' und die Bodensee-Anrainer dem alten Schwerenöter Louis Napoleon (der sich hier militärisch ausbilden ließ) verdächtig ähnlich sehen. Fröhlicher, gegen Schwaben, Preußen, Schweizer und den Rest der Welt geifernder Volksliedchauvinismus geht mit stimmungsvollem, zum Fingerschnipsen verführenden Jugband-Shuffle einher: 'Musik für jede Gelegenheit'? Sollt' ich nochmal heiraten, ich tät' sie einladen."
(Nikolaus Gatter, Folker! - Das Magazin für Folk, Lied und Weltmusik #2/2007)
"Germany has a long history of regional music delivered in regional voices and idioms. The subtitle of this regional gem translates as 'Indigenous Music From Western Lake Constance' from the German-Swiss border. The opening track with new lyrics from Notker Homburger is done in a jug band style, with the combined talents of Notty's Jug Serenaders. Called I Gang So Gern In D'Dullegass,, it lifts the melody of Avalon. Relocating Avalon to a street in Konstanz's Niederburg district, the Tulengasse (the Dullegass of the song title), not only gives an example of how the language here departs from Standard German, it works as a musical witticism too.
Various combinations of musicians appear on the album. The guitar-double violin-voice arrangement of his own waltz Der 25. November, is especially delicious while his solo voice and guitar version of Lili Marleen hits all the right spots. The top price goes to Z'Areneberg Am Bodesee, a ribald account of the exiled Prinz Luis Napoleon (the future Napoleon III) who found sowing his oats wildly a far more desirable prospect than studying, hence the observation that half the population has the same facial characteristics. Long live regional music."  
(Ken Hunt, Folk Roots Magazine #264, 6/2005)
        nicht mehr lieferbar / no longer available 
IAIN STRACHAN with ERIK KNUSSEN:
"EVELIX"
Walled Garden Music WGMCD0101 (UK.2001)
Homburger zu Gast in Schottland. Mit Iain Strachan, Erik Knussen, Andy Thorburn, Véronique Nelson, Alasdair Fraser, Steve Kettley, Eddie Scott, Finlay Grant und Sarah Scott.
"Deeply meaningful easy listening! Scat and balladry with wry humour from
Iain, joined by members of Skelbo (the band which played at Madonna's
wedding) and other top musicians."
 (Music in Scotland Newsletter, June 2001)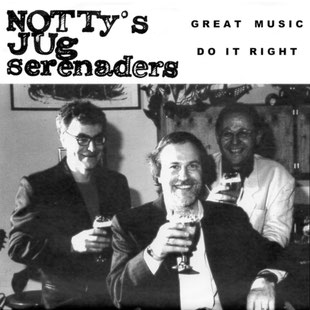 "GREAT MUSIC / DO IT RIGHT" 
Notty's 500.01 (D.1999), 45 rpm Vinyl - Single (limited edition: 500 copies)
2 Lieder von Homburger in Trio Besetzung (Banholzer/Homburger/ Reinhard)
"... 'Great Music' is a classic! I thought 'Great Music' was a brilliantly composed piece of musical satire. I thought the way the jazz horns descend into utter cacaphony and unmusical chaos was a great statement. I guess this record will have to be an 'underground' classic."
 (Robert Crumb, Brief an Homburger, 11. Juli 2011)
"This band have previously had material reviewed in B&R #73 and #92 and have a sprightly and highly individual approach to jug band material; they also have a sharp sense of humour. This 45 rpm single is however deadly serious. The music may be Will Shade meets Don Cherry and Ornette Coleman, but the lyric content of 'Great Music' deals in a few short verses with the whole idea of what the white listener expects from 'white blues acts', stereotyping, cultural hijacking and racism within the (white) Blues scene - really.
No 'good time hokum' then, but a song tackling an issue that is all too often ignored. And lest you think it doesn't apply here in the UK, I have heard similar comments to those Mr. Homburger quotes from people closely involved with the Blues here - it's one of the things that really does piss me off about the British blues scene. I first heard this song on a demo tape a few years back and it still shocks me - and it is probably even more relevant now. The flip is rather more conventional, but buy this one for the challenging 'A' side. A brave release in a limited run of 500."
(Norman Darwen, Blues & Rhythm Magazine #150, 6/2000)
 "WALTZIN' THE BLUES AND BALLIN' THE JUG"
Staff NJS.002 (CH.1994) CD
"Sure their Swiss accents take a little getting used to, but good jug bands are so hard to come by these days that it's any port in a storm. Notty's Jug Serenaders provide safe harbor as they joyfully work through a playlist that bows to everybody from Tampa Red and Big Bill Broonzy to Jimmy Rogers and Charlie Parker. Like earlier great revival jug bands (Jim Kewskin's for example), they emphasize fun rather than a narrow pursuit of authenticity. As a result, Blind Lemon Jefferson's I'm Going To The River comes complete with a brass and reed section. This is amazingly infectious stuff."   
(Peter R. Aschoff, Living Blues Magazine #119, 1/1995)
"I reviewed this German band's first CD for this Swiss label back in B&R 73 and the lads obviously read it - I made a comment there that maybe they should put some yodelling on their next outing, and sure enough, the crazy hillbilly doo-wop waltz version of 'Every Day I Have The Blues' (!) finds Yodelin' Andi Reinhard lamenting his Swiss miss. What next? - Alphorn maybe. Actually, it would probably fit quite well.
Although there's a wonderful sense of humour about much of the material here, and a great riposte to any reviewer who's ever complaint  about 'the tinge of an accent' with 'Nobody's Business - Part 1', there are plenty of moments of high musical quality - would any other jug band even attempt, let alone succeed in tackling a Charlie Parker number? - and lots of excellent slide and fingerpicked guitar from the leader, amplified and otherwise harp from Bernhard Mayer, some horn work that occasionally sounds like a cross between the Skatalites, Ornette Coleman and an oompah band, and rasping jug playing (is it just coincidence that the sleeve design is by Moofart?)
Will Shade would have loved it. If you're looking for an antidote to earnest, young white 'country bluesmen' that's also extremely listenable, good fun, and bluesy, this fits the bill nicely."
(Norman Darwen, Blues & Rhythm Magazine #92, 9/1994)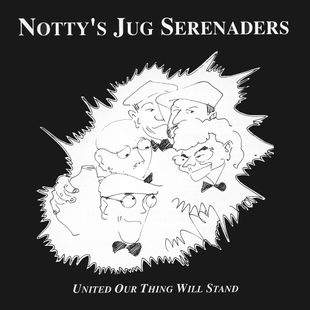 nicht mehr lieferbar / no longer available 
 "UNITED OUR THING WILL STAND"
Staff NJS.001 (CH.1992) CD
Konzert-Mitschnitt vom Februar 1992 aus dem Vorstadt-Theater in Frauenfeld (Schweiz)
mit Thomas Banholzer, Notker Homburger, Bodo Matzkeit, Bernhard Mayer und Andi Reinhard.
"Jug band music is meant to be good fun, and this recording, made in Switzerland by a five piece band led by German-based guitarist/singer/kazooist/juggist Notker Homburger maintains that tradition. They have a wide ranging repertoire, from the Rolling Stones and James Booker to Sylvester Weaver and the Leake County Revelers, and this sweep of material is matched by the instrumentation, which in true jug band fashion includes spoons, washboard and mouth harp alongside more conventional items such as harmonica, trumpet, clarinet and sax. Though the proceedings begin fairly seriously, things soon loosen up and by the time we get to 'Mojo', it sounds as though the jug players may have had a bit too much gassy lager at the local beer festival - particularly when we get to the 'jug trio' section; the important word is gassy, rather like the beans scene in 'Blazing Saddles'! Some of the songs have a skiffle feel, 'Irene Goodnight' mixes C&W and Dixieland, and 'Honky Tonk Woman' features some fine jug. You get the idea ... there's a definite accent to the vocals but it doesn't really matter, it's all good fun. If you want to add some local colour, maybe throw in a bit of yodeling on the next record, lads."   (Norman Darwen, Blues & Rhythm Magazine #73, 10/1992)