Freitag, 1. Juni 2018,  20 Uhr
ANDREAS DANNENMAYER UND NOTKER HOMBURGER 
BLUES 
PARTERRE 33 | Plattform für Passionen
Rorschacher Strasse 33
CH-9000 St.Gallen
VIDEO:
https://www.facebook.com/parterre33/videos/1644962202285501/
HEIZMANN, BANHOLZER, HOMBURGER
mit ANNA HERTZ und MARTIN HEIZMANN
in
"DIE RÜCKKEHR DES ILBENTRITSCH"
am Theater Konstanz (Spiegelhalle)
Regie: Wolfgang Hagemann

                                                                                          (Foto: Björn Jansen, Theater Konstanz)
SÜDKURIER vom 15.05.2017
zur Premiere von
"DIE RÜCKKEHR DES ILBENTRITSCH"
Aus­stel­lungs­er­öff­nung
Aline Ko­mins­ky-Crumb and Robert Crumb: Drawn Together
Freitag, 1.7.2016, 18.30 Uhr
Mit Aline Kominsky-Crumb und Robert Crumb. Einführung: Terry Zwigoff, Regisseur («Crumb»), San Francisco und Anette Gehrig, Leiterin und Kuratorin Cartoonmuseum Basel. Musik: Notty's Jug Serenaders (Jug Band Blues), Konstanz.                                     www.cartoonmuseum.ch
Foto: © Cartoonmuseum Basel
Michel Bohli über die Ausstellungseröffnung:
Notty's Jug Serenaders
こんにちは。
先日、少しふれましたドイツのギタリスト/シンガー、
Notker 'Notty' Homburger さんより音源のサンプルが届きました!
個人的にもずっと聴きたかった音源です。やっと皆様にも紹介できそうです。
'Notty'さんのソロや彼が率いる Notty's Jug Serenaders の音源などなど。
ソロ名義での新作『 STUBETE 』 (2LP)と 7inch は、限定盤です。
さらに『 STUBETE 』 、『 WELCOME TO THE SAINT』 のジャケ画は、
Robert Crumb 氏が手掛けたものです。
アメリカのルーツ音楽とドイツや隣接するスイス、オーストリアと言った
国々のルーツ音楽をジャグ・バンド・スタイルやヨーピアン・テイスト
溢れる演奏で聴かせてくれます。僕もまだすべて試聴できていませんが
楽器の編成やカバー曲も含め、とても興味をそそる内容です。
彼が6月末まで不在となるのでこれら音源を先に送ってくれました。
こう言った心遣い、メールでのやり取りや梱包のセンスも含め、
彼の人柄がよくわかりました。それは音楽からも聴いてとれます。
店頭にて先行で試聴していただけます
ご予約もお待ちしています!!(通販もお受けいたします!)
どうぞよろしくお願いします。
Vielen Dank, Notty! 2016-06-10 : ★お知らせ :
PO' BOY RECORDS, TAKASHI GUNSHIMA, OSAKA, JAPAN
Homburger, Wengert, Homburger
in
"Ja, Schatz!" - ein literarisch-musikalischer Liebesreigen
in der
Zimmerbühne in der Niederburg, Konstanz
am 15. April 2016
Christophe Mourot über "Stubete" - CD
(Soul Bag #222, Avr.-Mai-Juin 2016)
 En Allemagne, Notker Homburger est spécialiste de la guitar à résonateur et se produit dans plusieurs formations rassemblées dans un disque compilation. La plus proche du blues est les Notty's Jug Serenaders (g, tp, bjo, hca, jug, perc) dant les relectures de Jimmy Rogers, Ann Cole, Taj Mahal ou Sylvester Weaver valent le détour. Il faut aussi écouter le reste, mazurkas, airs traditionneles, en se rappelant que les musiques allemandes et centrale-européennes ont beaucoup influencé le folklore américain.
Ken Hunt über "Stubete" - CD
(froots – The Essential Folk, Roots & World Music Guide #391/392, Januar/Februar 2016)
The Musée d'Art Moderne de la Ville de Paris had this truly, truly remarkable exhibition of the works of the US cartoonist and artist Robert Crumb in 2012. It was not necessarily PC in any sense. One of Crumb's music-related illustrations from 2002 entitled Hot Women - "Exotic & Spicy" had "Women Singers From The Torrid Regions of the World taken from old 78 rpm records" slung beneath it. Aside from Crumb's many, various and other torrid fantasies, music is a prime one. And for the second time, with Stubete, Crumb has provided the album artwork for a Notker Homburger get-together (which is what Stubete means, from Stube and 'get a room') For the historians, the previous one was Notty's Jug Serenaders' Welcome To The Saint (2009) and I have no memory of it appearing in the exhibition.
The opening track, the Swiss-German Klettgauer Schottisch from Heizmann, Banholzer and Homburger with Thomi Erb could be, with twists, straight out of the John Kirkpatrick repertoire. Notty's Jug Serenaders' blow-off Little Red Hen taps into that outfit's jug band roots beziehungsweise repertoire.  Stubete captures a regional and specifically personal outlook of what Bodensee music can, could or should be, whether that is the regional Lake Constance dance tune Staader Mazurka or Anita Pfeiffer & Notker Homburger's English-language duet on John Prine's In Spite of Ourselves (with Thomas Banholzer).
Nothing not to love about this release. Everything to understand about why Crumb agreed again to do its artwork.
Norman Darwen über "STUBETE"-CD
(Blues & Rhythm Magazine No. 305, December 2015)
Notker 'Notty' Homburger has featured in these pages several times over the last couple of decades, initially due to his leadership of Notty's Jug Serenaders before branching out into other projects. On this set he brings all the disparate elements of his music together, with the German language folksongs (well, kind of German anyway) and folk-dance tunes of the Lake Konstanz area of the German, Austrian and Swiss borders nestling neatly alongside American styled jug band performances like Sylvester Weaver's instrumentals 'I'm Busy And You Can't Come In' and 'Guitar Rag' and, with vocals in English, listenable covers of Jimmy Rogers' 'That's All Right' and 'Got My Mojo Working', plus a couple of others less well-known.
Notker has never taken his music over-seriously and this set has, as with his others, a strong sense of good humour. For this set he has enlisted the help of many musicians in different permutations, though the overall effect is that of some informal music making in an intimate setting – fittingly, as this is what 'Stubete' means in the local dialect.
The result is an extremely entertaining and, as we have come to expect from Notty, a rather different release. Nice Robert Crumb sleeve picture too.
Robert Crumb über "STUBETE" - CD
(Oktober 2015)
Homburger,
… I just recently was finally able to give "Stubete" a good close listening and must say I truly enjoyed most of it.  Not to flatter you overly, but your guitar playing is a pleasure to listen to on every number that you play it on.  I love the renditions of old-time stuff like "Guitar Rag" and "I'm Busy And You Can't Come In" — great! I like very much the banjo-ukelele stylings of Herr Dannenmayer, and together with your guitar, it makes some very fine duets, as also on "Little Red Hen."  I like also your vocals when you sing the German songs.  The solo piece "Gell, Etz Wundersche Di," with you singing and playing guitar, I thought was excellent.  Also, I thought Gela's singing on "Ich Bin Ein Jung Hübsch Weibchen," accompanied by you on both guitar and harmonium was excellent.  I found her straight-forward, plain approach to singing very pleasing.
I like all the accordion pieces with Thomi Erb.  Your accompaniment on these is impeccable.  I notice that he is given composer credit on some of these tunes.  I'm impressed as they are all very fine tunes and are free of any modern pretentions. But you know me, I like stuff that sounds like old 78s.
Very fine music all in all.  You know, it's interesting how you jump between old-time American blues/ragtime and traditional German/Alpine tunes.  And somehow, the tune "Welcome To The Saint" seems to wed these two distant music traditions together.  There is some echo of the old-time Alpine zither in your playing on this tune.  Are you aware of that? Perhaps you are a unique phenomenon in that regard, bringing these two traditions together. I don't know.
HEIZMANN, BANHOLZER, HOMBURGER
in
Norbert Heizmanns
BodenFee und WellenZwerg
(Regie: Wolfgang Hagemann)
Theater Konstanz, Spielzeiten 2013/2014 und 2014/2015
mit Anna Hertz, Norbert Heizmann, Notker Homburger,
Thomas Banholzer und Martin Heizmann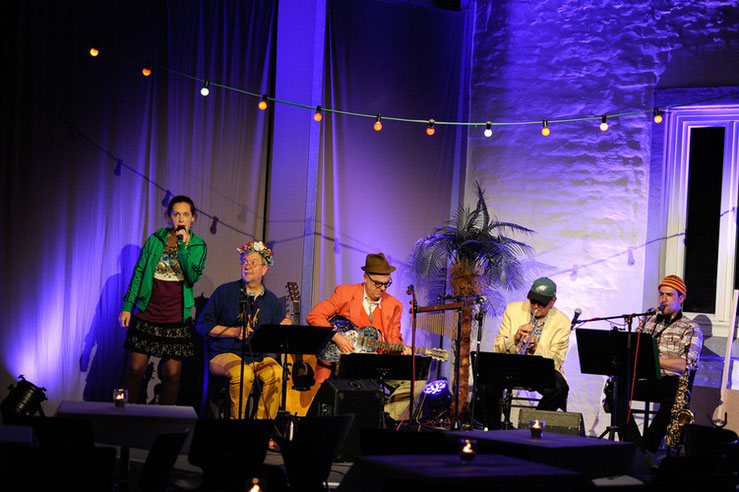 Michael Lünstroth über ein Konzert von
HEIZMANN, BANHOLZER, HOMBURGER
(seinerzeit noch als "Norbert Heizmann & Notty's Jug Serenaders")
(Südkurier, 23.11.2009)
SIE VERTONEN DAS KONSTANZER LEBENSGEFÜHL
Zwischen Folk und Volksmusik:
Norbert Heizmann & Notty's Jug Serenaders spielen im Pfohl ein großes Konzert
Die Volksmusik hat in Deutschland ein Imageproblem. Das liegt vor allem an dem verzerrten Bild, das das Fernsehen von Volksmusik bietet. Wer Volksmusik mit Stefan Mross, Tony Marschall und Florian Silbereisen verbindet, der kann auf keinen guten Gedanken in dieser Angelegenheit kommen. Das ist ziemlich bedauerlich, weil Volksmusik eben nicht nur Um-ta-ta-ta und sinnfreie Texte bedeutet, sondern durchaus anspruchsvoll und ambitioniert daherkommen kann. Im englischsprachigen Raum nennt sich sowas dann Folk und auch in Deutschland gibt es Bands, die mit einer Mischung aus Folk und Volksmusik erfolgreich sind. Oft sind es Kombos, die regional stark verwurzelt sind und auch im Dialekt singen. Tatsächlich hat in diesem Segment auch Konstanz etwas zu bieten – und das schon eine ganze Weile: seit inzwischen 25 Jahren gibt es Notty's Jug Serenaders, und kaum eine andere Band vertont das Konstanzer Lebensgefühl so authentisch wie die drei Herren Notker Homburger, Andi Reinhard und Thomas Banholzer. Seit einigen Jahren arbeiten sie auch enger mit Norbert Heizmann zusammen, den viele Konstanzer vor allem aus der Fasnacht kennen.
Wie fruchtbar und anregend diese Zusammenarbeit ist, konnte man am vergangenen Wochenende bei zwei ausverkauften Konzerten, nein Unterhaltungsabenden, im Pfohlkeller beobachten. Eingeborenenmusik vom westlichen Bodensee sollte es geben – und so kam es dann auch. In den Texten gab es viel Lokalkolorit, so in Notker Homburgers Hommage an die Tulengasse in der Niederburg oder in der wunderbaren Vertonung des Konstanzer Maultaschenfalls, ein Song, der den hübschen Namen "Maultaschenklauenseuche" trägt. "Wir sind die Konstanzer Antwort auf den Buena Vista Social Club", sagte Norbert Heizmann zu Beginn des Abends. Folk, Jazz und Blues wechselten sich ab – die Konstante des Abends war der absolut unverwechselbare Klang des Quartetts. Mit Gitarre, Saxophon, Nasenflöte, Kazoo und den Jugs – speziell angefertigten Tonkrügen, die dem ganzen den nötigen schrägen Sound verpassen – stehen die vier Herren auf der Bühne. Dass sie Spaß haben, sieht man ihnen in jedem Moment an. Dass sie dem Publikum Spass bringen, das merkt man an der Stimmung, die von Minute zu Minute heißer wird.
Fast scheint es so, als seien die Musiker selbst überrascht von der Begeisterung: Norbert Heizmann nimmt immer mal wieder seine Lesebrille ab, um genauer ins Publikum zu schauen. Überhaupt Heizmann: Er ist an diesem Abend ein guter Moderator. Seine unaufgeregt-lakonische Art passt bestens zur Musik. Selbstironisch nimmt er im "Hundele-Lied" den Konstanzer Dialekt aufs Korn, die großen Philosophen Kant und Platon holt er auf den Konstanzer Boden und scheut sich auch nicht vor politischem Witz als er sich beispielsweise darüber wundert, weshalb die Deutschen immer so gerne die Hände zum Himmel heben. Heizmann beherrscht die Sprache des Unausgesprochenen – er weiß, wann er Dinge auch mal nicht beim Namen nennen muss.
An seiner Seite weiß Heizmann an diesem Abend zudem unglaublich gute Musiker, die Freude am etwas Schrägen haben. Ihre Musik fordert Herz und Hirn gleichermaßen heraus – das schaffen nicht allzu viele Bands.
Nach fast drei Stunden endet ein großer Abend im Pfohlkeller mit stürmischem Beifall. Vollkommen zu Recht.
Ken Hunt über  "Nur in Konstanz" – CD
fRoots – The Essential Worldwide Roots Music Guide #264, June 2005
Germany has a long history of regional music delivered in regional voices and idioms. The subtitle of this regional gem translates as 'Indigenous Music From The Western Lake Constance' from the Swiss-German border. The opening track with new lyrics from Notker Homburger is done in a jug band style, with the combined talents of Notty's Jug Serenaders. Called I gang so gern in d'Dullegass, it lifts the melody of Avalon to a street in Konstanz's Niederburg district, the Tulengasse (the Dullegass of the song title), not only gives an example of how the language here departs from Standard German, it works as a musical witticism too.
Various combinations of musicians appear on the album. The guitar-double violin-voice arrangement of his own waltz Der 25. November, is especially delicious while his solo voice and guitar version of Lili Marleen hits all the right spots. The top prize goes to Z'Areneberg am Bodesee, a ribald account of the exiled Prinz Luis Napoleon (the future Napoleon III) who found sowing his oats wildly a far more desirable prospect than studying, hence the observation that half the local population has the same facial characteristics. Long live regional music.
NOTTY'S JUG SERENADERS  (2005)
Banholzer, Reinhard, Homburger
gezeichnet von